Workshops and Short Courses
A range of expert workshops or short courses for students, ECR, or any interested researcher will be available for free or at an additional cost if organizers require.
Participants are expected to register to individual workshops or short course through the Exordo platform. More detailed information will be provided soon.
We will accept registrants above the maximum number of participants and create a waiting list. The deadline to register will be 20 February 2023.
For specific information about each workshop and short course please refer to the relative convener.
Workshops should be seen as oral sessions held in lecture rooms, open to the discussion of data, models, concepts, regarding a specific Quaternary issue, i.e. International Workgroups, Projects, Commissions, proposals preparation, and so on. Workshops may take up to 8 hours (1 day) and should be held pre-, post-, or mid-Congress (that is, on Sunday, the free day in the middle of the Congress).
Workshop 1 –  Reconstructing the Quaternary explosive volcanic history of the Anatolian Peninsula: Implications for volcanic hazard assessments in Turkey
The aim of this workshop is to discuss about the Quaternary explosive volcanism in the Anatolian peninsula, with special interest at the most recent studies on the larger and active volcanic structures located in Central and Eastern volcanic provinces. This will include the results of the P SK R M project, funded by the EU HORIZON 2020 Research and Innovation Programme (Marie Skłodowska-Curie Actions), which is studying the proximal pyroclastic deposits within the Central Anatolian Volcanic Province (CAVP) and their related distal tephra layers in order to reconstruct the explosive volcanic history of the region (including eruption magnitudes and frequency). The workshop will be dedicated to examining different strategies aiming at improving volcanic hazard assessment in Turkey. Anatolian volcanic eruptions can be highly destructive and dispersed ash over hundreds of kilometres away, threatening lives an damaging important cities, such as Aksaray – located only 20 km NW of Hasan Dag volcano within the CAVP, which has seen a recent increase in volcanoseismic and fumarolic activity; and also Kayseri city with 1 million of inhabitants and located on the northern flank of Erciyes volcano, which has generated voluminous Holocene eruptions. In the Eastern Anatolian Volcanic Province (EAVP) there are also several active volcanoes, being the most dangerous the Nemrut caldera that collapsed < 30 ka  ago and is still producing post-caldera explosive eruptions, being the last on April the 13th of 1692. This workshop will be supported by the IAVCEI Commission on Tephrochronology (CoT), the old INQUA International Focus Group on Tephrochronology (INTAV).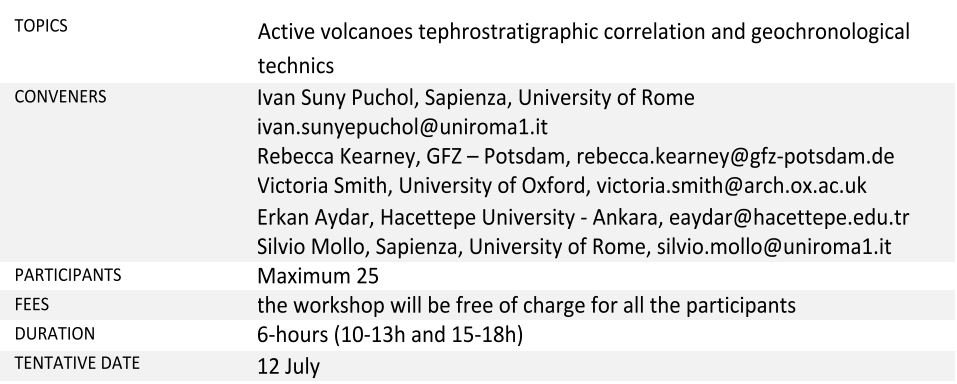 ---

Workshop 2 – Integrative paleo-approaches for global conservation challenges
With the growing need in the Quaternary Science community to make paleo-data more relevant for addressing future global challenges, the PAGES DiverseK WG is promoting cross-disciplinary research at the interface between Palaeoecology, Dendroecology, Conservation Biogeography, Fire ecology and related disciplines. The aims of this workshop are to:
discuss the role of paleo-data for supporting conservation and sustainable management of forest and climate mitigation goals, as recently highlighted by the UN Climate Change Conference (COP26);
Identify key areas where emerging conflicts between conservation targets, socio-ecological and environmental needs can be tackled by an integrative paleo-perspective;
Discuss future DiverseK activities, including workshops and group publications.
We welcome ECR's and more experienced researchers across a wide range of disciplines, particularly Paleoecology, Dendroecology, Archaeology and related disciplines. Participants are welcome to bring their own dataset for discussion.
This workshop is supported by the PAGES DiverseK WG, the Leverhulme Wildfires Centre and the PAGES IPN.
Related links
PAGES DiverseK WG https://pastglobalchanges.org/science/wg/diversek/intro
COP26 https://ukcop26.org/cop26-goals/
Leverhulme Wildfires Centre https://centreforwildfires.org

---
Workshop 3 – Towards consolidating a Latin American Quaternary network
In the last decades, Quaternary research has rapidly expanded in Latin America. A growing number of studies focused on different disciplines of the earth and human sciences have promoted a noticeable increase of locally-produced Quaternary records.  However, the lack of connections between different regions and research groups have played against multidisciplinary collaborations, a key requirement for tackling major questions regarding the complex environmental and human dynamics during the Quaternary, from regional to continental scales.  On behalf of the recently formed Chilean Society of Quaternary Sciences (SOCHICUA), we proposed this special meeting with the goal of promoting collaboration among Latin American colleagues, overseas researchers working in Latin America, and the broad range of scientific societies focused on Quaternary sciences, from archeology to paleoclimatology and beyond. We aim to set in motion a collaborative network that brings together Latin American Quaternary scientists, to promote inter-regional collaborations that will help to gain a better understanding of the human and natural dynamics throughout the Quaternary Period. We expect that this meeting takes place under an inclusive approach that embraces our local knowledges and heritages and acknowledges the diversity of our landscapes and people.  This working meeting will consist of presentations of individual researchers and/or Quaternary societies representatives, followed by an open table discussion. We expect participants to expose their case studies, experiences, and available resources for collaborative initiatives; as well as general contributions in topics such as: integrating public and private support, natural and cultural diversity, new research methods, gender equality, and shared colonial legacies. Presentations will be followed by an open table to discuss the strengths, weaknesses, and opportunities of a Latin American Quaternary network.  Potential products that could emerge from this short course include open databases of Latin American Quaternary sites, comprehensive academic book about the evolution of the Quaternary sciences in Latin America, and the avenues for a future INQUA Congress in Latin America, as initial steps towards future and long-living scientific collaborations.

---
Workshop 4 – Multi-theme Quaternary database for the Global South: challenges and opportunities 
Despite its diverse ecosystems from coastal wetlands, tropical forests to high-elevation mountain lakes as well as a wide range of social histories, the exploration of past socio-environmental systems in the Global South (i.e., Africa, Latin America and the Caribbean, Asia, and Oceania) is highly underrepresented compared to that of developed regions. Moreover, irrespective of the geography, one of the greatest challenges in Quaternary sciences is to launch develop collaborative projects of past human environmental interactions in the form of time series of comparable temporal and spatial resolution. The lack of collaborations among different disciplines could lead to a biased understanding of long-term human-environmental dynamics, which can, in turn, mislead our responses to pressing environmental issues in the Global South comprising many developing economies. Therefore, there is a critical need to advance practical methodologies that address complex relationships among humans, environment, climate, and landscape through open frameworks of interdisciplinary collaborations: a multithemed Quaternary database. This workshop aims to bring together researchers, who are invested in the study of the Global South and were/are participants of the INQUA-supported Holocene database project, pSESYNTH (2022-2023), and a new Pleistocene focused database initiative, PleistoScape. The specific project objectives include: 1. Exploiting the existing single-themed databases and use records from paleoclimatology, paleoecology, and archaeology that could complement participant's choice of systemic components over time. 2. Exploring participant's datasets by regions and organize them into a centralized and dynamic repository. 3. Analysing time series and proxies using scalable and comparable methods across themes (paleoclimatology, paleoecology, archaeology). 4. Introducing the participants with a synthesis workflow for data sharing and reproducibility relevant for collaborative projects. The proposed workshop will provide a platform for reflecting upon the experiences related to data synthesis and multiple hypothesis testing frameworks utilized in the above projects. Through collating case studies from subregions of the Global South, the workshop participants will discuss the overarching as well as region-specific data and scale mismatches, human-ecological processes, and success or struggle stories from the Global South where future opportunities lie. Participants will gain first-hand experience on how to manage paleo-data available in open access databases. Researchers whose work is focused on the Global South, are particularly welcome. There are no specific requirements on participant's skills yet experience in managing large and diverse datasets will be positively considered. It would be an advantage to bring own data to attain a win-win situation: access to a larger and multi-themed set of records and networking opportunities supported by INQUA community.

---
Workshop 5 – Exploring the interface between Sustainability and Palaeoecology
As the world continues on its unsustainable trajectory towards "hothouse earth", various attempts have been made to define a safe operating space for key biological and environmental processes. Defining these spaces can assist in stabilising earth system processes by returning them to "Holocene-like" conditions (Steffen et al. 2018).
Without longer-term data, we are tasked with trying to return a system to unknown conditions. For most ecosystems and processes, we do not have long-term data that spans key historical transitions e.g. the great acceleration (c. 1950), industrialisation and European colonisation (C17th – C19th), Medieval Climate Anomaly (C10th-C13th), mid-Holocene altithermal (9-5ka), beginning of agriculture (10+ka). These timespans are important in exploring the variability and resilience of key parameters including vegetation (land-cover), fire, nutrient cycles, water quality, pollution, soil erosion, information which could assist in defining safe operating spaces and mapping sustainable trajectories that stabilise essential earth system processes and associated ecosystem services.
The aim in this workshop is to explore how long-term data from palaeoecology, paleoclimatology, archaeology, use of documentary sources and repeat photographs and in combination with remote sensing techniques which allows for monitoring environmental change over decadal to millennial timescales, and to relate this to defining tipping points in social-ecological systems.
Furthermore, advances in quantitative palaeoecology can assist in identifying tipping points and regime shifts that can interface directly with the planetary boundaries' literature.
The combination of these methodologies alongside other knowledge streams allows for a much-needed temporal continuum from scales of millennia to months contributing to a better understanding of landscape change and variability. In addition, the combination of cross disciplinary approaches allows for a better understand of past and present management (positive and negative) and the range of interventions possible for landscape management today and in the future.

Short Courses should be regarded as max. 1 day of practical and interactive sessions focussed on methods, tools, instruments, and analytical methods provided by specialists, private or public Companies or Agencies, etc. Short Courses may take up to 8 hours (1 day) and should be held pre-, post- or during the Congress. In the last case, Short Courses will be organized on Sunday, the free day in the middle of the Congress.
Short Course 1 – Introduction to Ostracoda with a focus on Quaternary
Ostracoda is one of the main groups of biological proxies in Quaternary geosciences. The offered course is designed to provide an overview of the taxonomy, (palaeo)ecology, biodiversity, geological history, and applied biostratigraphy of ostracods. It is intended for young scientists and industrial staff interested in micropalaeontology, palaeoceanography, palaeoclimatology, biology, and environmental applications. We will present and train methods and concepts of ostracodology including systematics, biostratigraphic applications, ecology and life history spanning their fossil record from the Paleozoic to the Holocene with a focus on Quarternary faunas and applications and covering the recent fauna as well. Case studies from marine and continental systems as well as practical training for identification, preparation, documentation, and analysis will be an important part of the course. The course is primarily intended for young researchers at the PhD or MSc stages of their careers and industrial staff who intends to work with ostracods or just started to do so. People holding a postdoctoral position are also welcome.
This is a training course that takes place every year since 2015, as European School on Ostracoda. The 2023 edition, ESO8, will be specifically focussed on Quaternary. The lectures are given by several experts (see https://www.support-irgo.net/eso/ as an example). It will require a lecture room with a beamer for 22 participants, a stereomicroscope for each of them, transmitted light microscopes for at least the half of them. All other equipment and material will be provided by the short-course organizers.

---
Short Course 2 – An introduction to CRESTRE, an R package to perform probabilistic climate reconstructions from palaeoecological dataset
In this course an R package developed to perform probabilistic climate reconstructions using palaeoecological datasets (pollen, forams, etc) will be introduced. The course will be split in 3 phases: 1. The mathematical bases of the method and discussion about the different assumptions necessary to model the datasets. This will be followed by a short Q&A session. 2. Application of the package using an example dataset. This part will be interactive and will allow linking the different functionalities of the package with the theoretical elements presented during Phase 1. 3. Finally, the participants will be given the opportunity to start using the package with their own data.
This package is designed to enable the broader community to perform reliable climate quantifications and improve the global coverage of existing datasets at various spatial and temporal timescales. Colleagues who produce and/or use palaeoecological datasets to understand past climate change are welcome to join the short-course.
Useful documentation: https://mchevalier2.github.io/crestr/index.html
Required skills: understanding the nature and limitations of palaeoecological datasets, such as pollen data. Beginner notions of R programming.

---
Short Course 3 – Reconstructing past climates from biotic assemblages
Past climate states allow tests of the models that are used to project climate responses to changes in atmospheric composition and land use. Direct measurements of climate only extend back to the seventeenth century and in many regions are not available before the twentieth century. Reconstructions for earlier, and more different, palaeoclimate states have to be inferred from indicators that respond to climate. Most reconstructions of terrestrial palaeoclimates are based on biotic assemblages, including pollen, chironomids and diatoms preserved in sedimentary archives. The prevalence of pollen across environmental settings has made palynology one of the most ubiquitous and valuable tools for studying past environmental and climatic change globally for decades.
The course focuses on four different statistical techniques (MAT, WA, WA-PLS and fxTWA-PLS) used to derive quantitative estimates of climatic conditions, in particular of the Holocene and Pleistocene, from pollen assemblages. A short introduction of each statistical technique will be followed by a practical session in R environment.
Each participant should bring his/her own computer with R software and the packages rioja and fxTWAPLS installed.

---
Short Course 4 – Recent developments in landslides science: Implications for Geomorphic Modelling, Hazard Assessment, and Paleoclimate Proxies
The proposed short course would be aimed at showing INQUA members the latest techniques in landslide mapping, landslide inventories, landslide dating, and hazard assessment. Much good work has been accomplished in Italy, starting with the Italian nationwide landslide inventory (https://www.progettoiffi.isprambiente.it/) and extending into 2020-2021 papers on dating landslides in northern Italy.Required skills: understanding the nature and limitations of palaeoecological datasets, such as pollen data. Beginner notions of R programming.
Landscape shaping was accomplished roughly equally by fluvial erosion/deposition, hillslope processes (including mass movements such as landslides), and tectonics uplift/subsidence. In the Congress there will be many papers presented on the latest advances in tectonic geomorphology and earthquakes, much of it based on lidar DEMs. But the geologic record of landslides is equally important and has also experienced many recent technological advances using lidar and GIS.
We believe many INQUA members would be interested in a Workshop that displayed how these new technologies are used in practice to reconstruct landslide movement histories, and how they have affected our interpretive paradigms for mass movement (e.g. von Wartburg et al., 2020; Aksay et al, 2021). Traditional methods of landslide dating were aimed at establishing the initial age of failure. But almost every landslide mass also contains a history of partial-area reactivations. If landslide chronologies can be precisely dated (e.g., Panek, 2014), reactivations could constitute a paleoclimate proxy, one not currently used by paleoclimate specialists.
Requirements: Basic understanding of landslide identification and mapping; helpful to be familiar with digital elevation models and geographic information systems (McCalpin examples will be shown in Global Mapper GIS, but any GIS experience will be OK)